"There came a time when the risk to remain tight in the bud was more painful than the risk it took to blossom." ~Anais Nin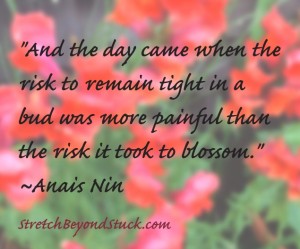 Have you experienced this?
I know I often do. There are times in my life when I could no longer remain tight. I just had to stretch, expand and blossom despite being scared and unsure of my next steps.
Like when I quit my career as a scientist to become a life coach, yoga teacher and earth medicine healer. It took the help of a life coach to keep me focused on the expansive energy of my dreams and vision instead of falling into the restricting energy of fear.
Our beliefs will determine whether we take the risk to blossom and grow.
If we believe it is too scary to try something new then we won't. If we are stuck in thoughts of: 'What if I fail. What if I look stupid. Or who am I to think I can do this? Am I good enough? Do I deserve this?' - we will never dare to stretch beyond the stuck-ness.
All these restricting, fearful thoughts/beliefs keep us stuck in the bud instead of blossoming into our full beauty and potential.
What you spend your time thinking about over and over ends up manifesting in your life.

 If you want something different to grow in your life, you must plant different seeds, different thoughts in the fertile ground of your mind.
As you may know, what we focus on expands and shows up in our life. It's the now famous, Law of Attraction. Since I spent a large part of my life as a scientist, I think of the Law of Attraction as 'being in resonance' with what I want.
Resonance can be described (semi-scientifically) as an increase in amplification (getting louder or expanding) when the an input into a system matches the natural or resonate frequency of the system. We can think of ourselves as such a system where, due to our thoughts and beliefs, we are vibrating at a frequency that is natural for us, our resonate frequency.
For example, when you blow into a glass bottle with just the right force and angle you get a deep sound because your breath and the bottle are 'in resonance'. They are vibrating at the same frequency.
Similarly, we attract that which is vibrating at the same frequency. This adds to our being, amplifies our truth, and causes us to 'resonate' even more 'loudly'.
A bottle can't change shape, so it's resonant frequency stays the same through time. We, as humans, can change our natural/resonant frequency by changing our thought patterns. If we want to attract something different, we must
 modify our frequency. It's just like changing the dial on a radio to a different station/frequency to be the match to that of our dreams.
Most of us spend a lot of time thinking about, worrying about, what we don't want. And, magically it keeps showing up. Oops! With each thought, we are vibrating with the frequency of that truth. We are tuned into the radio station of what we don't want. Oh no!
By changing our thoughts and beliefs, we slowly change the dial, and begin vibrating at a different frequency. The more we spend time thinking about what we do want, the more we vibrate with THAT frequency. We then naturally start to attract what we DO want because we are a match to it. We are in resonance with what we really want and we amplify the results as we naturally begin to grow our dreams into reality!
Take It Further:
How have you expanded or contracted in your life?
What do you want to resonate with?
Please share your thoughts with a reply/comment below.
If you want to stretch yourself and manifest what you DO want, grab a FREE DeStress-Manifest Kit!

Copyright © 2013 Rena Hatch and LunaGaia, All rights reserved.
"My work with Rena has allowed my life's wings to unfurl as I have transformed both personally and professionally through this revelatory work." ~Rhonda Musak, Acting Coach, New York, NY www.artandsoulacting.com
"Since working with Rena, I've felt a consistent and lasting shift in my behaviors, which is ultimately helping me to achieve a healthy balance in my life." ~Janice Packard, Artist & Teacher, Gresham, OR

Related posts: