How often do you stop to notice what you appreciate about life?
I am sure you have heard about the benefits of an attitude of gratitude. Yes?
Yet, how often do you practice that attitude?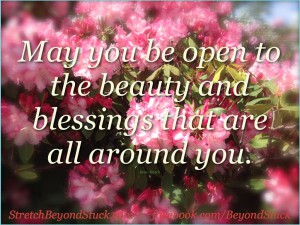 I find I need to remind myself to stop and notice the blessings  – I call them the flowers of my life. The more I look for and focus on the flowers of my life the lighter and more blissful I feel. Not that I ignore the weeds. The weeds get my attention too. I just ask myself what do I need to learn from this 'weed'? Or what is the positive intention of this weed (what is it's inner flower)?
When you take time to nurture the flowers of your life (blessings, dreams, wishes, hopes, gifts, etc.) your life blossoms with beauty and joy.
If you spend all your time focused on the weeds – complaining, comparing, criticizing, worrying, about all the stuff that you really don't want in your life – you feel drained, hopeless and lost.
What are the flowers of your life? How are you appreciating them and tending to them? What might you do to refocus your attention on them more often?
Do share your answers with a reply/comment! I'd love to hear your thoughts.
I am grateful that you choose to stop by and read my thoughts.
Warm wishes,
~Rena, the 'Get Unstuck' Coach
p.s. Wanna stay focused on flowers in your life? Grab my FREE DeStress-Manifest Kit – 5 steps to more calm and balance for the Heart-Centered Busy Woman. You'll be amazed at how you can shift your mindset in just a few minutes!

Related posts: