Do you want to be your best self this year? Do you want to have more success in your personal or professional life? Well, you must write down your top goals!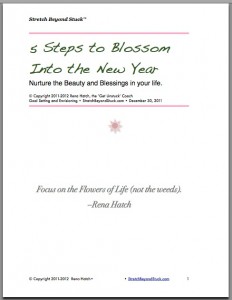 Put your goals down on paper so you can see them, think about them and make them real!
Would you like to have an inspiring word that guides you through your year? Having one word can keep you on track and remind you of your vision and goals. It will keep you on your heart path!
Well if you are feeling stuck and you are woman who needs a little support getting started with goal setting, read on….
These are my steps to creating a powerful vision and personal-inspiring word for the year:
Look Back and Let Go – Review what you have accomplished.
Honor What IS - Accept where you are at and what is missing.
Plant the Seeds - This is the key! I have key questions to activate your inner wisdom.
Listen to Your Heart – Set aside time to do this each day.
Take Action – Do Something Different.
If you want the details and a guided visioning exercise, download my workbook!
Grab your copy of Blossom Into Your Year
just click –>> Blossom Into Your Year
Have you already filled out your Workbook? If so, please tell me what your word is! How was your experience of filling out Blossoming Into Your Year? Did you get stuck? Have you not even done it but intend to soon?
Share your thoughts in the box below.

Related posts: