Ever feel like you are repeating the same unhealthy habits over and over? Stuck in a rut? Or like you are running on a tread mill (but not loosing any weight) …
and you can't get off? Well, I know I have! It is just a general sensation of feeling stuck.
A few years back (okay, quite a few years back) when I was working in corporate America as a scientist, a geophysicist (lot of people use to ask me what the heck that it is, but that's another story), I thought I was 'on the track to success'. From the the outside I looked successful and happy. Yet, on the inside I felt lost and confused. I felt that there was something missing in my life and felt like there was a hole. And at the same time I felt numb. I remember feeling stuck. Yet, I didn't really 'feel' anything because I believed feelings  just got in the way of good judgement. And I was too busy to stop and ask how I was feeling anyhow. I was also overweight. My routine was: go to work; come home; eat; sleep; repeat. I had no time for me. I felt frustrated and it was not my style to ask for help.
I started devouring self-help books (by Wayne Dyer, Eckhart Tolle, Marianne Williamson, etc.). Reading those books gave me hope and a belief in a way out. I also started getting back into yoga more (I had been practicing since 1986 but only in a superficial way). I started really connecting with the pranayama (breathing exercises) and meditation more deeply and for longer periods (which I'd been doing since 1989). I started carving out more and more time for me and my yoga practice.
Then, I attended a yoga retreat where I met a Life Coach and started working with him. The life coaching taught me to connect to my feelings and to find the wisdom in my body and my feelings. Slowly, I started to feel more whole and complete within myself. As I continued on my journey to living as my Authentic Self, I went through period of mourning. I had to release my old ideas of who I thought I was and my old ways of being in the world. It took time. Lots of learning, letting go and releasing of old habits.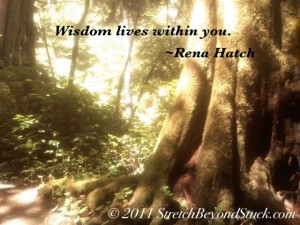 The biggest results I've gotten in my life – after all the 'above' – is…
I have reconnected to my inner wisdom which allows me to trust myself and my intuition.
I found balance within myself which allows me to create an outer balance in my life.
When we connect to our inner wisdom we naturally trust ourselves. This quiets the inner critic and that self-doubt that can cloud our way and keep us from following our heart path.
Balance is just about choices. When we reconnect to our Authentic Self we naturally listen to and trust our inner wisdom and intuition. Our choices be come clearer and easier to make. This creates a sense of lifestyle balance.
Copyright 2011 Rena Hatch
It is now my passion and mission to help other women reconnect to their inner wisdom and find inner balance.
Would like more? Join the Get Unstuck Mailing List and ….
Get FREE Get Unstuck tips + guided meditation:

Related posts: