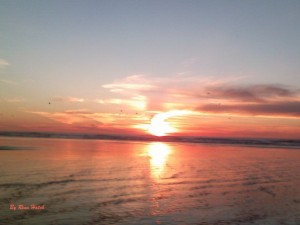 Standing at the edge of the world …
Sweet, ocean breezes cleanse me.
Dark, heavy grey-ness is blown away.
Golden-pink light envelops me and all that is.
Every cell drinks in the Prana-filled light-air.
Surf rolls and soothes.
Sand flows and sparkles.
Beauty fills and folds in on itself.
Revealing the
Shimmering silhouette of life
pulsing between us all.
Each day an ending wrapped in a beginning.
Copyright 2011 Rena Hatch

Related posts: