We all have days where we come home exhausted or feel overwhelmed in the middle of the work-day.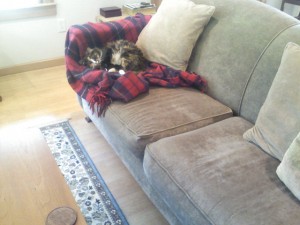 In moments of stress our mind and body crave old habits because old habits feel comfortable. Our mind associates comfort with safety.
It's the end of the work day, you feel exhausted. You think, "I know I 'should' eat something healthy and go for a walk or workout, yet all I want to do is eat 'comfort food', curl up on  the couch and watch TV". Does this sound familiar?
Yet, what is comfortable for us often does nothing to alleviate the chronic stress that many of us live with. We are so use to the stress that we think of it as 'normal'. When I was working 12 hour days and following a schedule of work, eat, sleep, repeat, I did not know how stressed I was until I took a month off between jobs. Only then did I notice a difference in my shoulders relax and the lack of stressful thoughts running through my mind.
Now, as a trained yoga teacher and a life coach, I have lots of tools for stress relief at my disposal. Yet, there are 3 that I use over and over and recommend repeatedly to my clients. These tools are great to use in stressful moments. And, make sure to practice them on a daily basis so that they become the 'old habit' that your mind will then naturally reach for.
The 3 Ultimate Stress Busters:
Belly Breathing – Breathe into your belly. Inhale fill your belly like a balloon. Exhale empty the belly out. Repeat. We usually breathe shallow and into our chest when we are stressed. By breathing into the belly we are using the diaphragm and deepening our breathing and increasing lung capacity over time. This type of deep breathing activates the 'relaxation response' or the parasympathetic nervous system and automatically relaxes our entire body.
Breath Counting – Count each breath. One on the inhale, two on the exhale, three on the next inhale, etc. When you feel overwhelmed this is a great exercise to give the mind some thing to 'hold on to'. This is very soothing and relaxing for the mind and the body will follow by relaxing.
Sacred Self Time – Take 2 minutes to just be. The opposite of running around and doing, doing, doing. Just sit quietly with yourself. Practice doing this daily. Practice sitting quietly and allowing your thoughts to float by like clouds. Allow your emotions and thoughts to flow through you. Don't follow them or connect into them. Just be a gentle witness to them.
Want more support and ways to practice the 3 Ultimate Stress Busters?
Grab a FREE copy of my 5 Steps to DeStress-n-Manifest! in my FREE GetUnstuck – DeStress-Manifest Kit…
Please share your thoughts below. How do you handle a stressful day? What stress busters have you tried?

Related posts: