If you want to change unhealthy habits, you must change your beliefs. Our beliefs are what create our reality, our actions and our habits.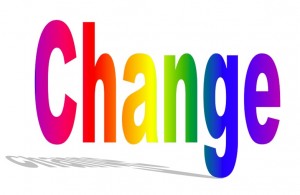 To truly blossom and change we must hold expansive beliefs about ourselves.
Often we are stuck in negative thoughts and we don't even realize it. I catch myself sometimes thinking thoughts like, "Oh, I can't do that. I don't have time. I am too tired." These thoughts keep me stuck and stop me from moving forward into more positve possibilities.
The restricting thoughts are based in deeper restricting beliefs (I call weeds). When we have thoughts such as: "I can't do that. I'll never … It won't work." etc, we are keeping ourselves stuck in unhealthy habits and stuck in repeating the same actions over and over. So, of course, we see the same things show up in our life. We keep creating the same things, since what we are able to create and manifest in our life is a direct result of what we are believing and thinking.
Just noticing the restricting thought pattern is a big step. Most of the time we are just thinking the restricting thoughts repeatedly (which turn into weeds and strangle the light out of our life). We believe them, and then of course, we feel hopeless, sad, etc.
To change your habits/actions, change your thoughts.
Here's how:
Acknowledge it. Notice the restricting thought when it pops into your awareness. Take time to be quietly with yourself. Just 2 minutes a day in the morning, at lunch time or at night before bed, will make a bit difference.
Capture it. To change a thought you must capture it. That means you must notice it and write it down. Now it is concrete. You can look at it and work with it.
Question it. Ask some questions such as, "How does this make me feel?" "When might I have begun (or first started) thinking this way?" "Is it even true/useful?"
Transform it. Write down your response to this: "How do I want to feel regarding this subject (whatever this thought is about)?"
What new, uplifting thought will support or create that feeling for me?
Write down that new thought. Place it where you can see it often. Repeat it to yourself before you fall asleep and when you first wake up.
Copyright 2011 Rena Hatch
What do you think? What thoughts are holding you back from creating your dreams? What thoughts are keeping you stuck? How have you tried to change unhealthy habits? Please share your thoughts below.
Related articles:

Related posts: