If you are feeling stuck, you are not alone. Many women feel stuck in unhealthy relationships, unhealthy habits, an unsatisfying job, or just stuck in low energy. (More about how to tell if you are stuck here => feeling stuck?)
You've taken the first step, by acknowledging it! Want to know the 3 things you need to get unstuck?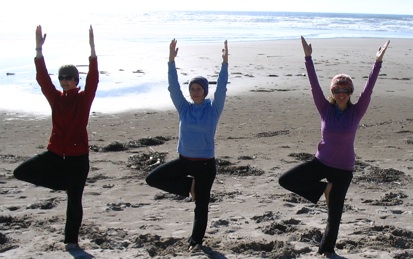 When I feel stuck, I know the most important thing is the recognition of it. Then I can empower myself to actually do something about it and change it! The next step is actually knowing what to do to get unstuck. Most of us don't know what to do to change it so we just stay stuck.
To get unstuck you must have 3 things in place.
These 3 things are what you need to truly Stretch Beyond Stuck:
Vision = a clear vision and idea of where you want to be (instead of being stuck).
First step = a clear, doable, specific, measurable, first step to get you moving toward your vision.
Dissatisfaction – you must be dissatisfied, unhappy or frustrated enough to be motivated to make a positive change. Your dissatisfaction must be high enough to get you into action. In this instance dissatisfaction can be like a spark that can get a fire started within you to start creating something different.
If anyone of these 3 is missing you will not be able to overcome that part of your mind that wants to stay where you are. There's a part of our mind that dislikes change so much that it would rather be unhappy than make changes. A good life coach or an Inner Sanctuary Coach will get you clear on all 3 of these necessary items.

If you want more tools …
Join us at the Ocean Retreat where you'll create clear 1st steps and a vision board to support your vision! Ocean Retreat
Get your copy of Stop Self Sabotage:

Stop Self-Sabotage ($7.95 for instant download)!
Remember: ongoing support (with email coaching) is always available to those with a Premium Membership.
***How clear is your Vision, First Step and Dissatisfaction? Please reply below …. >>>>


Related posts: